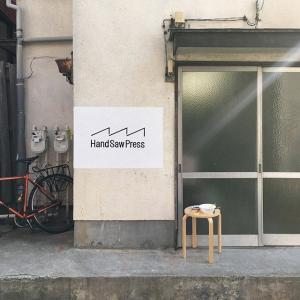 The map press service was reborn as a hand saw press with two wonderful architects / designers.
hand saw press has expanded the Risograph printing that map press service had done at the vegetarian restaurant Nagi-shokudo. In the new place, in addition to printing, we will do activities as a DIY label including woodworking and publishing.
On open studio days scheduled several times a week, you can feel free to experience Risograph printing and receive woodworking services. In addition, workshops and music events of manufacturing are also often held.
Also, we are planning to release more records, publish books, and make sundries etc. more than ever.
We prepare 17 color drums and various kinds of paper and we are waiting for your creativity.

And we use 2 risograph. One is MD5650, another is MD6650W which can duplex print.  
I guess that two risograph is only in Japan.
(map press service is a printing service using Risograph managed by an independent publisher "map". Sometimes we run and stop, sometimes we can not move at all, but for nearly two decades, we have written themselves, made magazines, planned zines, organized events, released CDs and records I have made it. However, now is the era when books that people can read are not selling. Still I wanted to make a book, I bought a Risograph for second hand, and got one color drum one by one. Until now I have only lent the Risograph to themselves and the designers around me, but I will release it for many artists and editors who want to make magazines and artwork ahead. In addition, this studio is in the vegan restaurant "Nagishokudo" I run. I hope you enjoy printing while eating a little strange ethnic vegetarian food.)